Digital nomad destination: cruise ship
We booked another transatlantic cruise. We liked the first one so much, we can't wait to do it again. First, it might seem counterintuitive for a digital nomad to spend two weeks on a cruiseship crossing the Atlantic. But let me tell you why it is an option nearing perfection.
Easy living
Everything is organised, you don't need to worry about anything. There will be food, a clean cabin and things to do.
Feel like exercising? There's a gym with nice views. Or you can walk around the deck on the walking path. Or maybe join some of the daily dance classes?
Feel like being entertained? Every day there's a high quality show at the main theater, live music around the ship, karaoke, and games like sudoku and bingo.
Feel like learning new? Well, the dances were already mentioned. Then there's also some language classes (very basic though), and lectures about the different destinations and other interesting things (if you're 60, or us).
Setup for routines
Things happen at specific times of the day, so it's easy to build a routine around them. Last time our routine looked like this most of the days: breakfast at 8, work, lunch at 12:30, work, dance class at 14, work, dance class at 16:45, reading, dinner at 18:45, evening show at 19:30. After couple of days we had found our favorite places to work (electricity, quiet enough, nice views), and just rotated between them.
A routine also developed around eating, after a few days we didn't need to think about that much, we knew the options and what we liked. Food is ready and plenty, no need to ponder about where to eat and how much it will cost. For lunch we often went to the a la carte restaurant, to be able to just sit down and be served. For dinner, we preferred the buffet over the more formal a la carte. At the buffet I developed a habit of first filling my plate with salads and appetizers, then getting a bit of some main course, and finishing off with fruits. Routines!
We also spent the two weeks without drinking any alcohol. And are planning to do the same this time. It saves us money, and I guess it's good for us to have teetotal weeks sometimes. Although many people drink a lot on cruises, it was also easy not to drink. It's so different from every day life, and when we get our new routines on place, we have no place for drinking.
When it's a transatlantic cruise, most of the days are sea days, so there's nothing getting on the way of our nice routines. I guess also the somewhat older passenger profile is a better fit for this, since on short Caribbean cruises you might get a boat full of kids and party people, and then getting work done is a whole different issue.
How's the wifi?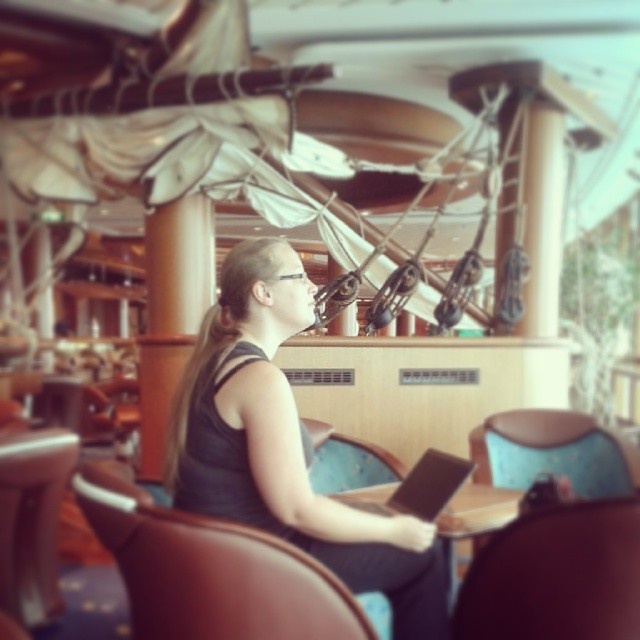 This one is probably a big question for many. The internet is often slow, sometimes even non existent, and quite expensive. We make sure we don't have nothing that requires a constant access for the time of the cruise. For emails, we have an offline version, so we can just connect to internet for sending and receiving mail. We make use of the port visits and find a cafe to work in for a while if needed.
Having no constant access to internet is however very productive. There's no way to get lost in Facebook or reading a blog post after blog post. Still, there is a connection good enough for checking and sending emails, loading some code to a website etc. where needed. Before departure, we concentrate on things that need internet, and for the boat we pile up on things that are better done without it. Like reading, studying, building new or modifying existing websites, and analysing data we already have. And we take more time than usual for strategic discussions and planning new things.
It's affordable
Really, surprisingly affordable. For this one we are paying 1220€ for 14 nights. This includes the cabin, food (no special drinks or alcohol), and entertainment. For the flights only we would have paid at least 200€ per person, probably more. If I subtract this from the total, our daily costs are 57€ per day for the two of us. For this we get a nice bedroom with our own bathroom (although a tiny one), daily room service and cleaning, as much food as we want to eat and plenty of entertainment options from musicals to sudoku.
There are cheaper options too. Best one I found at the moment costs 989€ for 16 nights (New Orleans to Barcelona), in a cabin with a window. Calculated as above, the daily cost would be 37€. But we really like the stops on the cruise we chose, and we also wanted to try another ship, since this cheapest one is the same we took last time. Another thing we could have done is to wait until last minute discounts, since transatlantic cruises normally don't sell out.
Other bonuses
Interesting people - Many times we shared a dining table with other cruisers. This lead to so many interesting discussions with people we normally don't have any contact with. 
Room for thoughts - Having the endless sea in front of us when working is also a big bonus. With all that wide open space our thoughts seem to have more room to move and we don't get stuck in details.
Slow travel - If you just zip over the ocean in a plane, is hard to grasp the distance you've travelled. Staying on the surface makes it much more real.
--
Understand us yet? Got a small voice in your head telling you should try long cruises also? If you want to know more, you can read Tynan's post about Why Cruise Ships are My Favorite Remote Work Location. He has also built this cool tool Cruisesheet for finding the best deals. And then there's of course Antti's post about our first transatlantic cruise.

We are Mirje and Antti, a 30+ digital nomad couple, entrepreneurs with restless feet and passion for experiencing the world. more »