Packing list: Autumn in Europe
I updated our Packing list, but wanted to save the old version as a post.  So here's everything we carried with us last (2013) Autumn in Europe, when we spent 2 months in Paris, Dublin and Portugal. - What we carry with us hasn't actually changed that much since, it has been more about fine tuning, or replacing some broken items.
Our Bags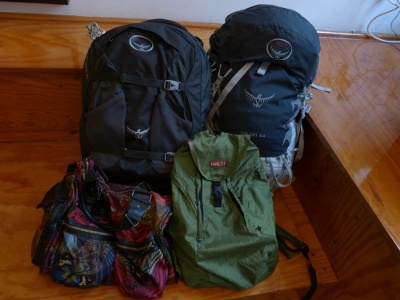 Osprey Farpoint 40(Mirje's, carry-on size)
Osprey Talon 44 (Antti's, most often carry-on size)
Lightweight Halti backpack (fits into a pocket when empty)
Desigual handbag (holds tons of stuff, it's amazing!)
Our backpacks weigh 8-9 kilos when packed, and our smaller bags bring 2-3 kilos more per person. So all together we are now travelling with bit more than 20 kilos. Plus of course what we are wearing, but that doesn't really count, right?
The Essentials
Credit cards
Travel insurance cards & paper copies (also saved in email)
Passports & paper copies (also saved in email)
Emergency numbers (also saved in email)
Vaccination cards
Mirje
Electronics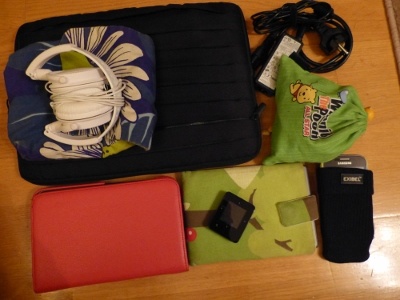 Cheap smart phone (Samsung Trend)
Lightweight laptop (Samsung 5 Series Ultrabook 13,3")
Tablet (7" Samsung Tab 2 3g, newer version here)
Kindle (the battery lasts forever, great for long flights / bus rides) 
MP3 player
Headphones with hands-free set
Chargers for all above (luckily many things can use same one)
Usb sticks, memory cards
Protective cases 
Clothes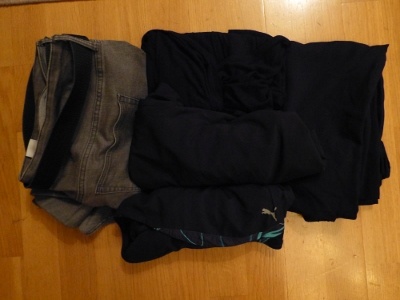 Pair of shorts (mainly for sleeping)
Black pants (can be dressed up or down, super comfy!)
Black summer dress
Tight grey jeans
Black excercise pants
Black leggings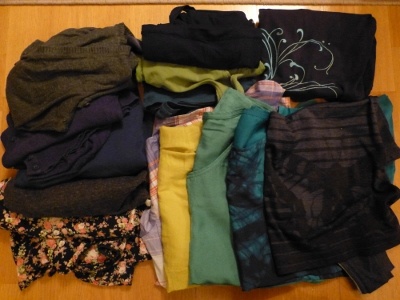 3 cardigans (grey, blue and teal)
2 long-sleeved shirts (grey and a flowery one)
3 sleeveless tops (mainly to use as base-layer, blue, green & black)
1 sports t-shirt
5 short-sleeved shirts (square pattern sports one, yellow cotton from Thailand, green & blue dressier ones, and grey Icebreaker)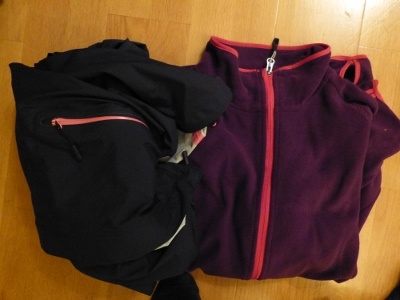 Waterproof jacket (light-weight and tiny)
Fleece
Gloves, hat, scarf, ear muffs (none pictured here)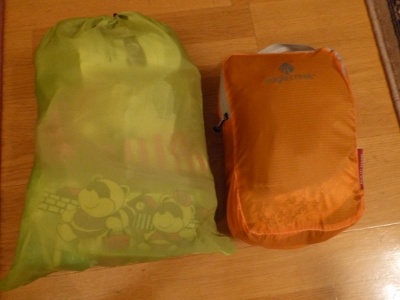 In the orange packing cube:
7 pairs of panties
2 bras (need to get a sport bra, the old one broke some time ago)
3 pairs of thin socks
Pair of woolen/trekking socks
2 baselayer shirts 
Bikinis
2 pairs of 40 denier pantyhose 
The green pack has all Mirje's toiletries etc. random stuff.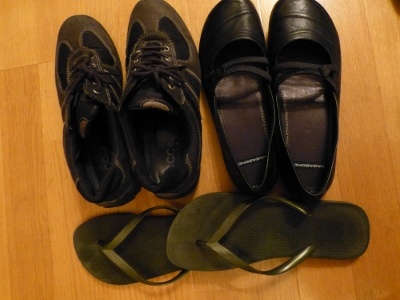 Ecco walking shoes (gore-tex)
Vagabond ballerinas
Flip-flops
Toiletries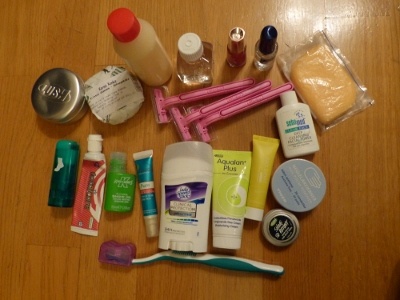 Shampoo bar + tin case (from Lush, we both use the same)
Foundation (liquid, since haven't found good enough bar yet)
Moon cup (missing from the pic, but definitely a must-to-pack!)
Moon cup washing gel
2 small nail polishes (color & clear)
Nail polish remover pads
Antibacterial hand soap bar
Tiny face toner
Gel stick to prevent blisters
Toothpaste
Shaving oil + shavers
Spot gel (for breakouts in skin)
Deodorant (solid stick, so isn't counted as a liquid in a plane)
Body cream (suitable also for face)
Eye serum (I'm getting old!)
Hair oil in a tiny tin
Tootbrush (we also carry an electronic one, this one is back-up)
BB face cream with SPF20 (missing from the photo, sorry)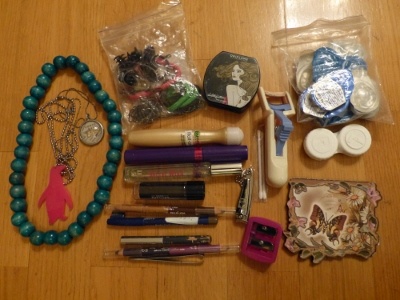 3 necklaces: wooden beads, penguin, locket
Hair pins + hair bobbles
Face powder
Daily contact lenses
Concealer
Mascara + eyelash curler
Parfume
Red lipstick (just added this, great way to look groomed in seconds)
Eye-liners (in few colors, using these also as eye shadow if needed)
Brow pencil
Nail clippers
Pinsets
Pen sharpener
Face scrub + body scrub (in a contact lense case)
Mirror
First aid kit: band-aids, ibuprofen, cough pills, eye drops, Imodium, etc.
Hand sanitizer
Electronic toothbrush & toothpaste
Sebamed shower gel (works also as face wash)
Other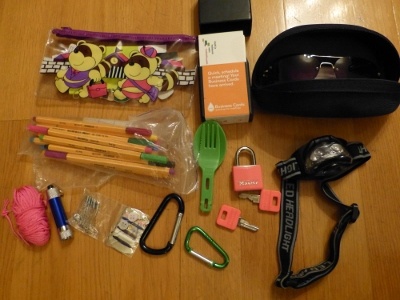 Case for sim-cards etc. small things
Business cards (at the moment they are in a smaller case)
Colour pens (for notes & pictures)
Spork (spoon+knife+fork all in one small plactic piece)
Lock
String + safety pins + miniature sawing kit
Carabiners
Headlamps (mainly used for reading in bed)
Sunglasses + case pictured here didn't make the cut this time. It's autumn after all.
Small ziplog pags + plastic bags
2 canvas bags (fold next to nothing, can be used to separate things in backpack, grocery shopping, etc.)
Large + small travel towel
Handbag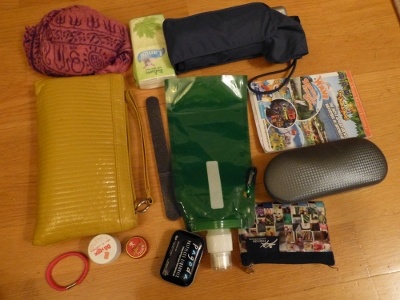 Small scarf
Tissues
Umbrella
Small purse (always in Mirje's bag if not used as a purse, includes pen, head ache pills, plasters, small notebook, etc.)
Nail file
Water bottle
Notebook + pens
Glasses + case
Hair bobble + few pins
Lip lotion
Mints
Wallet
Antti
Electronics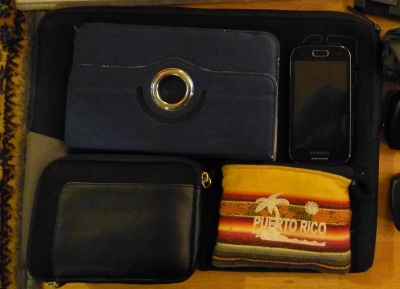 Basic smart phone (Samsung Ace 2)
Lightweight laptop (Dell Vostro V131)
Tablet (7" Google Nexus 7)
Panasonic Lumix DMC-FZ150 bridge camera (a light and compact tradeoff between a pocket and an SLR)
Casio pocket camera (as a backup)

MP3 player (an old ipod nano)
Headphones with hands-free set (x2)
MyPassport 1TB usb harddrive
Mini-speaker
Usb sticks, memory cards 
Chargers for all above (luckily many things can use same one)
Protective cases 
Clothes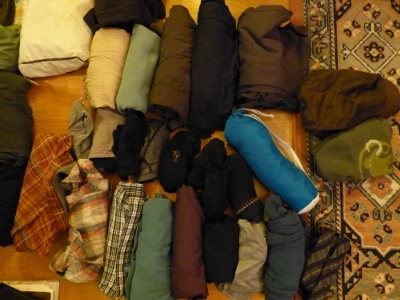 Pants: 1 for city, 1 for everything 1 for exercise/leisure
Pair of woolen/trekking socks
Gloves, cap, woollen cap, scarf
Underwear (enough for a week)
Waterproof jacket
Fleece
Pullover
3 short-sleeved shirts
2 long-sleeved shirts
2 T-shirts
Swimming wear (with goggles and all)
Tie (!)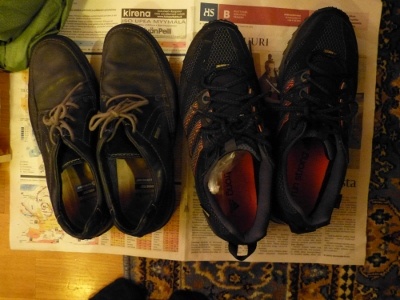 Shoes for short-distance walking (and looking nice)
Shoes for everything else (water-proof running shoes, quite good for walking as well)
Other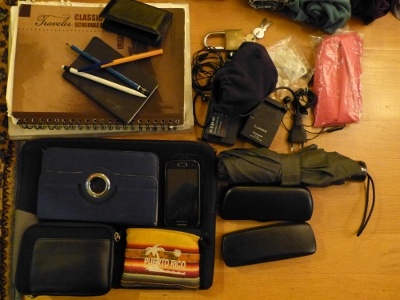 A4 plastic folder for documents
Notepads, A4 and pocket size, a pen and a pencil
Electric plug adapter
Head lamp
Mini electric razor
Some duct tape (rolled around a pen)
1 padlock, 1 lock with a wire
Umbrella
Spare glasses
Mini deck of playing cards
Money belt (I use this during transfers for passport and some cards)
Extra documents: international drivers licence, diving license, opticians prescription
Travel towel
Toiletries (mini-sized electric razor, shared shampoo and washing gel)
Medicines (all sorts for dealing allergies)
Everything packed in small bags of different colors, some more water proof than others. not all items in photos.
Our other packing related posts
What I Have Learnt about Packing by Mirje

We are Mirje and Antti, a 30+ digital nomad couple, entrepreneurs with restless feet and passion for experiencing the world. more »