Our Expenses in South-East Asia in Spring 2013
When preparing for our nomadic lifestyle we were reading tons of blogs for advice and ideas. We really liked the posts that detailed how much money people actually spent in each destination. So now when we finally have our South-East Asia expenses sorted out, we would like to share those with you, hoping they will be useful to someone. Word of caution though, we didn't really live on a minimum budget. We had set a limit of max 80€ (~105$) per day for two of us, and came out just slightly below that. So still not a huge budget, but enough so that we didn't have to pay too much attention to our spending.
The costs listed here are total for the two of us.
Where did our money go?
Here's a rough breakdown of all our expenses.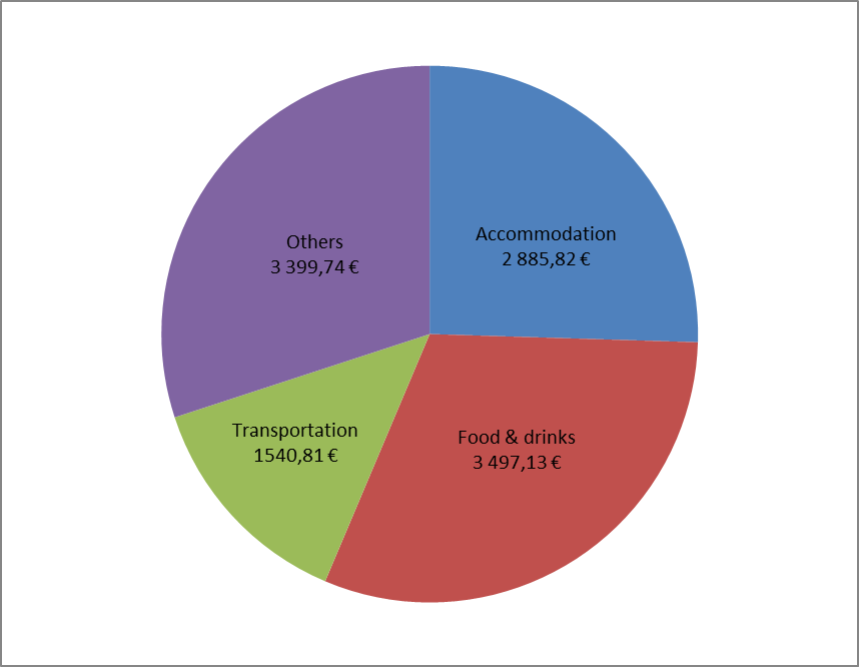 As you can see from the breakdown, we do like to eat and drink.  We spent in average 28€/day for that. The sum does include huge amounts of coffee. It would have been possibly to live on much lower food budget, but we like variety. We did enjoy street food, but visisted also many more expensive places offering cuisines from around the world. It is fun on a short trip to eat only local food, but on a longer term we crave some mixing up.
Our spending on accommodation was on average 23€/night. This would translate to about 700€ monthly rent. Which is almost exactly half of what we were paying back in Helsinki!  And still the cost is higher than people often report from Asia, mainly because we didn't take any monthly rentals and wanted always to be comfortable. And sometimes we were just plain lazy to look through many options. Our guideline was to spend max. 30€ per night and most of nights were under this, but on some we splurged a bit and went over.  It was easy to find nice accommodation fitting this budget almost everywhere, SIngapore being an exception..
The 28€ of "Other costs" per day include different activities, shopping, work related expenses (3G!) and ATM fees. Under activities we have mainly touristic things, like visits to museums and sites. The diving course and trip to Krakatau are also included here. The surprising part was that the fees for ATM withdrawals totaled over 200€. The only ATM cards we could get from our bank in Finland (or any other Finnish bank, it seems) have 2€ + 2% fee for each withdrawal abroad. Need to fix this somehow for our next trip out of the euro zone.
Moving around
Our flights to and back Asia cost 1417,12€. Return flight would have come cheaper, but we had to book ours separately, since we didn't know when and where we would be flying back from Asia.
Helsinki > Rome 115€
Rome > Kuala Lumpur 585€
Kuala Lumpur > Istanbul 717,11€
Our 12 internal flights in South East Asia cost us 1244,60€.
Kuala Lumpur > Koh Samui 190€
Surat Thani > Bangkok > Chiang Mai 179,40€
Chiang Mai > Kuala Lumpur 154,69€
Kuala Lumpur > Singapore > Kuala Lumpur 134,55€
Kuala Lumpur > Siem Reap 137,25€
Ho Chi Minh City > Singapore > Jakarta 183,11€
Jakarta > Lombok > Jakarta 208€
Jakarta > Kuala Lumpur 57,6€
On top of these we used 83€ for busses/ferries between cities. This includes
Ferry + bus Koh Samui > Surat Thani 27,5€

Bus Chiang Mai > Chiang Rai > Chiang Mai 16,75€
Bus Siem Reap > Phnom Penh 20,8€
Bus Phnom Penh > Sihanoukville > Phnom Penh 32€
Phnom Penh > Ho Chi Minh City 19,2€
4 taxi rides between Jakarta airport and Bogor 85€
Country-by-country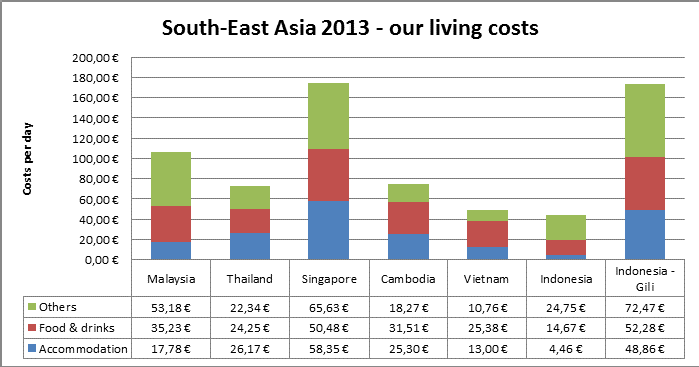 There were big differences on how much we spent on each country. We have separated our vacation in the Gili Trawangan from the rest of the costs in Indonesia, since the difference was so huge. Mainly because of the diving course. We also stayed in a nicer (=more expensive) place than usually and spent more money on food and drinks. Somehow not having to get up early to work equaled downing a few drinks every night.
Singapore was most expensive in terms of accommodation and eating out. And in top of that we did quite a bit of shopping for necessities(?) there, ending up with total daily spending of 174,46€.  Without shopping it would have been 136€.
The cheapest country for us was Vietnam, with average daily spending of 49,14€. Thanks to the tasty street food and cheap accommodation found through AirBnB. Indonesia (not including Gili) was also very affordable with daily spending of 43,88€. Mainly because in addition to one night in a hotel in Jakarta we only paid 2 bottles of booze for our accommodation. To clarify, we stayed as guests with a Finnish friend working there. And without the trip to Krakatau, our daily spending would have been about 32€.
In Thailand we used 72,77€/day. During our time in Koh Samui, we spent quite a lot in food, since there was nothing else close to our fancy resort. On the other hand, living in Chiang Mai was quite affordable. Although it would have been much cheaper, if we haven't been moving around so much.
Malaysia would have been on the cheaper side, but as it was the first place we arrived in Asia we went shopping for many things we needed, but hadn't had time or money to get before leaving Finland. Without all this shopping the daily average would have been about 81€.
All in all
We spent 12.740,62€ for our 4+ months in Asia, including flights there and back. Our plan was to stay under 3000€/month, so we did go over our budget, but only about 30€ per month. Cheers for us!

We are Mirje and Antti, a 30+ digital nomad couple, entrepreneurs with restless feet and passion for experiencing the world. more »