Activities in and around Dublin
Our week in Dublin was very action packed. Not only we took part in the TBEX travel blogger conference, but we also took full advantage of the activities offered around it. We don't normally do much activities in the places we visit (due to lack of free time and money and other excuses), so now we jumped on the change to become fully fletched tourists for a few days. It was all free for us as TBEX participants, and although there wasn't any strings attached, I do want to share the experiences with you.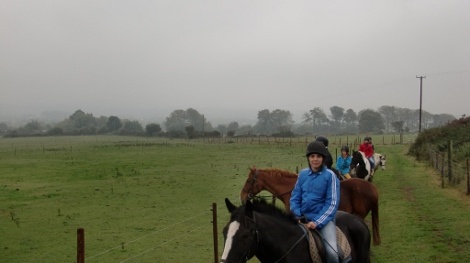 On the first day I participated on a full-day tour to Wicklow mountains with Day Tours Wicklow and Hilltop Treks. There were several of Wicklow tour providers, but only this tour included horse riding in the nature (also downhill biking and walking as options). Wasn't a difficult choice. First part of the tour was the visit to the stables. There we started our riding experience on a fenced training area, practicing the basics until everyone got them down and were ready to head out to the fields. It was raining a bit and the hills were covered in mist.
The views were incredible, but I only have few pictures to prove it. My horsemanship is not on the level to enable me to take good pictures while on the move. I was mainly concentrated on staying mounted. But I do have some riding experience from my teenage years, so I got to try some galloping on a forest road. Exciting! I think I need to get back to riding.
After the ride my body was ready for some rest and demanded food. We stopped for lunch at  a cozy eatery in a small town. The place was known from a movie, but I have totally forgotten the title of it. Food was good though. Several movies have been shot at the Wicklow area, including Braveheart and PS. I Love You. I have seen neither, so couldn't really appreciate the filming locations we saw.
And due to the rain and thick fog, we didn't actually see that many places. Our guide had planned several options for the day to accommodate the weather, and at the end the visibility was so bad that we had to turn to the last one of those option, meaning heading lower down and skip many of the views.
Luckily we still made it to Glendalough. The Glendalough monastery was founded on the 6th century by St. Kevin, a hermit priest. Now mainly ruins and a graveyard with old, tilted headstones survive, covered in moss. The round tower, typical of old Ireland, is 30 meters high. From there the monks could see the vikings and other attackers early enough to escape from them.
Along a path there was a big Celtic cross, which apparently could bring you good luck or damn you to hell. All you had to do was to try to wrap your arms around it. If your fingers touched each other, you were blessed, and if not, well, you were going to the warmer place. Luckily, my arms are long.  The monastery was an interesting place to visit, especially when the fog and rain made it all feel like in an ancient storybook.
Very close to the monastery ruins there are two mountain lakes, Upper Lake and Lower Lake. We stopped by Upper Lake for some pictures, but didn't venture further because of the rain. The place was absolutely beautiful and the views reminded me of New Zealand.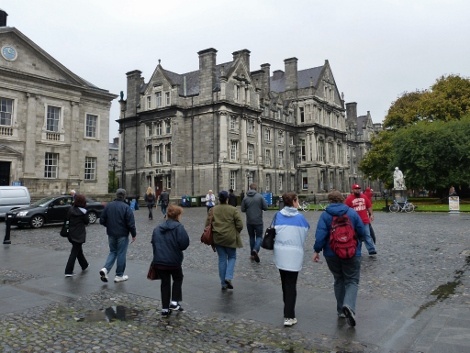 When I was finding my inner cowboy, Antti stayed in town and took part in a historical walking tour. (Antti:) The guides on these tours are history graduates from the local universities. While on some tours it feels like storytelling sometimes goes ahead of the facts, in this tour the content felt accurate and we also talked about the truthfullness of the stories.
During the walk there was plenty of time for additional discussions on all sorts of important topics, such as why is there a picture of a harp both in Irish coins and in the Guiness logo. - The harp is a very traditional Irish instrument and has been used as a symbol of Ireland for hundreds of years. The Guinness trademarked the harp symbol based on a famous 14th century harp (now preserved at the Trinity College) already in 1876. The story goest that when the Irish Free State Government wanted to use the harp as the official State emblem, they had to turn it the other way to distuingish it from the Guinness one. True or false?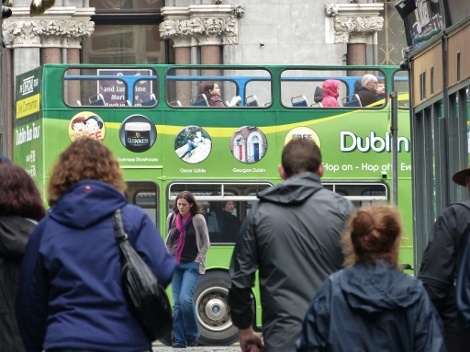 Hop-on hop-off buses are usually good for getting an overview of a city, an the ones in Dublin were no exception. The bus takes you around the main sites. Some of the buses provide a live commentary along the route, others a pre-recorded commentary. Most of the guides I heard were good and I learnt tons about the city and it's history. Some of the guides were a bit annoying and some hard to understand with their thick Irish accents. Luckily, if you are too annoyed or can't understand a thing, you can always get out and take the next bus.
There are two kind of busses, green and red, operated by two different companies and the tickets are not interchangeable. So better remember which one yours is for. We used the green ones.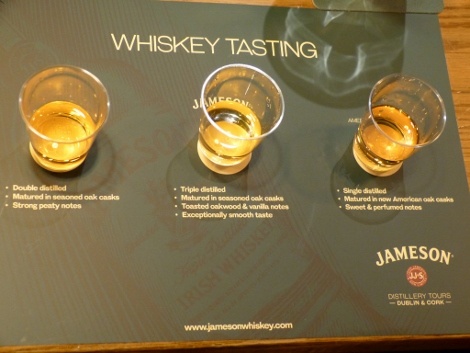 Jameson Whiskey Factory is a very popular place, even on a Saturday morning there was a queue of friends of whiskey waiting for a tour. Jameson has been producing whiskey since 1780, so they sure know what they are doing. On the tour we learnt that what makes the Jameson whiskey special it is that it is distilled three times, while many other whiskeys are only distilled once or twice.
The tour itself was nice and professionally produced, although in essence just an over-length commercial. On the other hand, what else can you expect from a factory tour? Especially when taking into account that the actual factory was moved elsewhere a long time ago. The whiskey was good though. All participants get a glass of it, either straight or with lime and ginger ale (surprisingly tasty). And if you want more, you just need to volunteer when asked during the tour, since a few of the participants get to take part in a whiskey tasting, comparing a few different whiskeys (a tip we got from a local in a pub, well-noted!).
In Dublin I rode a Segway for a first time, taking a Segway tour of the Docklands area with Glidetours. At first I was quite lost with the machine and also felt myself a bit stupid, in the look-at-us-lazy-tourists kind of way. But it did end up being easy and fun, and enabled us to cover quite a big distance in the two hours.
The guide was entertaining and told us plenty of stories about the area and it's history up to present day. We also stopped outside of the studio where U2 used to record their albums. Apparently the guys still live in this area, but although I did keep my eyes peeled for them, no luck. At the end of the tour we got to speed around a big empty square for a while. A fun bonus. I think I might do another Segway tour in future.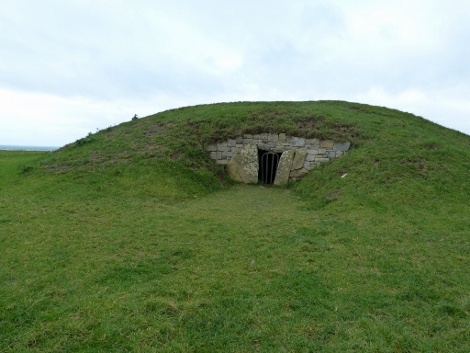 Another full day tour I did was the Celtic Tour with Extreme Ireland and Irish Day Tours. A day filled with stories and history, taking us through the Boyne Valley, exploring both the Celtic history of the area and more recent events. 
This tour was very flexible, the guide even came up with an alternative plan when we weren't yet hungry at the lunch time. I'm not sure though how the tour normally is, since I think this was a bit of a special edition. We started off about an hour later than the "normal" tour and didn't hit all the sites mentioned on their website.
First stop of the day were the Hills of Tara, "the most sacred site of ancient Ireland". It was already in use in Neolithic times, around 5000 years ago and continued so for thousands of years. The hills and the man made circles on them are still there, while not much else survives.
The place still has a special feeling, and almost like just to emphasize it, we saw some people (no, not actors) in weird clothes wandering around barefoot (with the amount of cows around I wouldn't have wanted to do that, it was hard enough to clean my shoes afterwards...) We also learned that the big stone in a middle of one of the circles had an important task in ancient times: it lighted up when a rightful ruler, then known as the High King of Ireland, placed his feet against it.
We stopped by at the Trim Castle, the largest and best preserved Anglo-Norman castle in Ireland. Scenes of Braveheart were filmed here, and it does look captivating. Broken down and covered in magnificently green moss, you could still feel the power the place had held. 
We also sneaked in for a quick look at the Slane castle, which was saved from economical troubles by becoming a home of some magnificent rock concerts in last decades (think U2, Queen, and so on). Talk about innovative thinking!
At the ruins of Monasterboice monastery we saw the Celtic High Cross of Muirdach, "the finest High Cross in the land".  This one was much more decorated than the High Cross I had seen in Glendalough. Scenes from the bible were carved in detail all around the cross, and although over 1000 years old, they were so well preserved that you could still figure out what they were about.
To finish our tour we stopped at the town of Drogheda. More historical buildings and cruel stories of Irish history. In the town, at the Church of St. Peters, there was the head of St. Oliver Plunket on display. Yes, the actual head sitting on a pillow in a glass case. Creepy.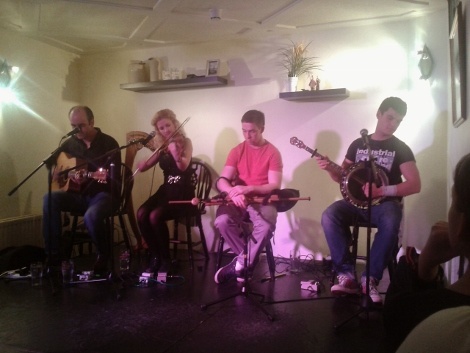 On our last evening in Dublin we headed to the Irish House Party, an evening with a music show and meal. The meal was ok, nothing special, but the Irish Coffee ice-cream dessert was an excellent finish. The show itself was entertaining, with four members playing more and less traditional Irish music with a twist, and some Irish dance thrown into the mix. They used some old style instruments, and especially the harp stayed in my mind.
They managed to create a nice atmosphere, at the end getting people to the dance floor to whirl around at crazy speeds. Remember the dancing scene below the decks in Titanic (the movie)? Just like that, although maybe a little less graceful. All in all a good evening, and we left with a smile.
- We enjoyed the week, but in a way were overwhelmed by all the activities. So much new information, so many new experiences. But in a way all the guides told the same depressing story, concentrating on the hard parts of the history. Death, suffering, treachery. Two most often recommended local attractions were a prison and a graveyard. It's weird how the Irish combine this gruesome view on history with being so warm and full of humor.
Remember to check the photo gallery on the left side of this blog page for more photos of the activities!

We are Mirje and Antti, a 30+ digital nomad couple, entrepreneurs with restless feet and passion for experiencing the world. more »